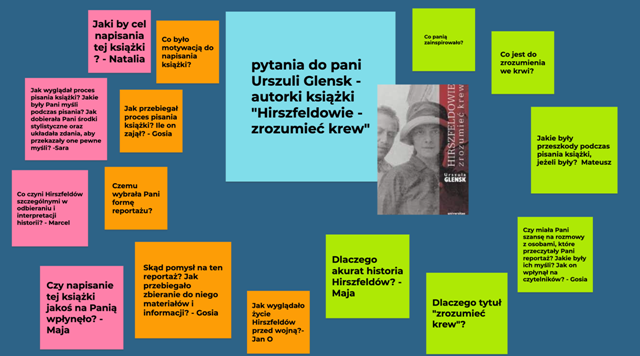 30-04-2021
1st grade students (MYP 4) had an opportunity to meet Ms. Urszula Glensk, the author of a biographical report about a couple of Polish-Jewish scientists Hanna and Ludwik Hirszfeld. Ms Glensk is a professor at the University of Wrocław, specialist in documentary literature and literary criticism.
The meeting was devoted to the personal life and scientific achievements of Hanna and Ludwik Hirszfeld and the impact that their work – the creation of blood group science – seroanthropology, the establishment of the Polish immunology school and participation in the creation of a university in Lublin and a medical university in Wrocław – had on the societies.
The conversation with our Guest was also a great opportunity to talk about  the challenges related to writing a biographical report. Students could ask the author questions about the work of a reportage creator.
Ms Glensk, thank you for your time devoted to our high school students and for sharing your knowledge about the Hirszfelds – this significant couple of Wroclaw scientists!