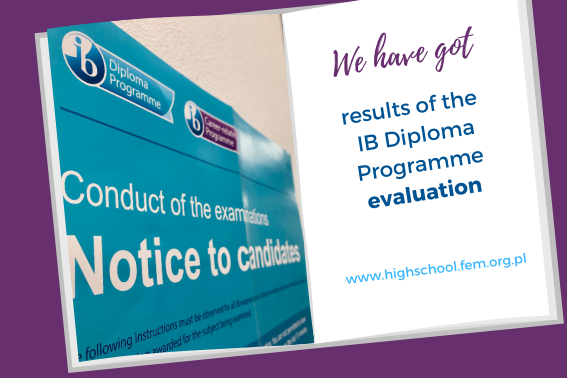 16-04-2021
Our school is accredited as an IB World School and has to undergo periodic inspections of international educational programs implemented in it: IB Middle Years Programme and IB Diploma Programme.
IB DP was recently examined by the evaluators of the International Baccalureate Organization, who spent several days carefully checking the implementation of the programme at our school.
We are pleased to announce the results of the evaluation.
According to the report sent by Commission President Terri Walker, our heads of school, coordinators, teachers and the entire school community are very committed to the implementation of the IB Diploma Program and to the process of continuous development, self-evaluation and thoughtful presentation of results.
The summary report identifies the following areas of program implementation as the school's particular strengths:
implementation, promotion and continuous improvement of activities that have a positive impact on the community in the school and outside it, in particular the activities of CAS and the school library
effective management and a leadership structure that covers all aspects of DP implementation
effective cooperation between teachers manifested in an effective system of joint planning of program implementation and self-reflection, both in the classroom and online.
The evaluators recommended the school to apply for a presentation its results in implementing the IB Diploma at a global IB conference.
They also offered sharing the school's results as a good practice.
The IB evaluators concluded their report with congratulations on the effectiveness in implementing the IB Diploma Program in our high school, emphasizing that the activities so far are an excellent foundation for the further development of the school.
Thank you to all members of our community who were involved in the evaluation process as well as implement IB Diploma Programme on everyday basis!