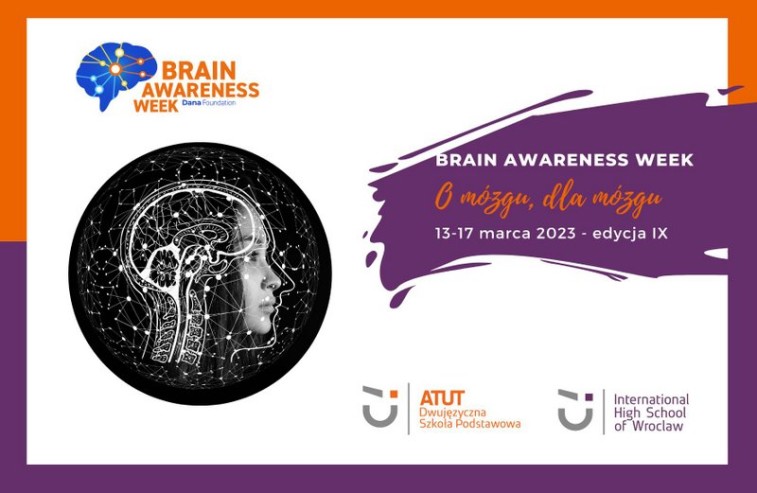 17-03-2023
We have just finished the 9th edition of the Brain Awareness Week, which we organize during the global BAW celebrations.
High school students had the opportunity to participate in online workshops with Mr. Maciej Durczewski, who talked about the Framework concept and effective learning techniques. During breaks, an opportunity to integrate and exercise the brain was provided by the game "About brain for brain" placed in the school hall. The role of high school students was also to participate in the jury evaluating the BAW Tournament, in which younger students from the ATUT Bilingual Primary School participated.
Particularly noteworthy is this year's BAW final. The spectacular end of Brain Awareness Week 2023 had a form of a happening, during which students – equipped with colorful cards – moved around the diagram of the human body drawn on the playground, illustrating the reactions of individual organs to stress and pointing to the role of the brain in this process. The drone operator recorded our "actors" from a bird's eye view.
Watch the videos from BAW happening!
The BAW ending event was recorded from a drone. The videos can be also watched on our YouTube channel in Polish and English. The narrator of the Polish version is Mrs. Ilona – our science and geography teacher and Alex, DP1 student leads the narrative of the English version.
Thank you to everyone who was involved in the implementation of this great project!