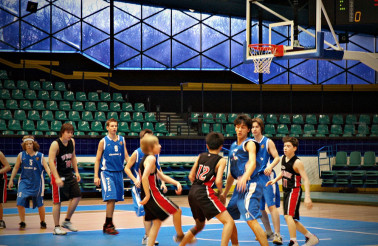 Physical culture is a part of holistic education. Students develop their fitness, knowledge of sports, learn how to live a healthy lifestyle, meet other cultures, learn the rules of fair play competition and teamwork.
Students are encouraged to exercise and we always want to create many opportunities for them to do so. Our school has a large gym with a volleyball court and a smaller room with mirrors and wall bars. The gym and rooms are equipped with modern sanitary facilities and comfortable changing rooms. Due to the large amount of equipment we can pursue interesting forms of physical activity and offer a variety of sport disciplines, such as badminton, unihockey, rugby, kendo, dancing and other. Students can spend their daily morning and lunch breaks in the school yard and sports field, under teacher supervision, regardless of a time of the year. Students particularly interested in sports expand their knowledge and skills during optional classes. We offer, among others, swimming classes, roller/ice skating, squash, karate, team sports and dance classes.
We support students training sports intensively and representing our region and country at national and international tournaments, by enabling them to follow an Individualised Education Plan.
Our school football and basketball teams (the Wolves) have existed for years now. They are composed of students ofFoundation of International Education (FIE) schools coming from different countries. Sports cooperation of young people from different parts of the world is a great opportunity to implement our philosophy involving the nurturing of respect for cultural diversity. Our two multinational school teams regularly compete in international tournaments, travelling to different countries of Europe. Some of the tournaments are organised in our school. The largest of them was the 2011 European Cultural Cup – a great sporting event as part of the preparation of Poland for the organisation of EURO 2012. At our invitation 11 football teams from all over Europe took part in the event.
In the International Baccalaureate programme each student is engaged in sport activities as part of CAS, a mandatory core component of the programme in which students learn through experience. Supervised by the CAS coordinator, students plan their activities independently. They can also use the help of PE teachers of FIE schools.